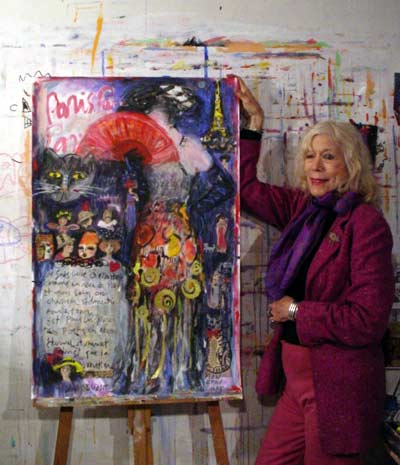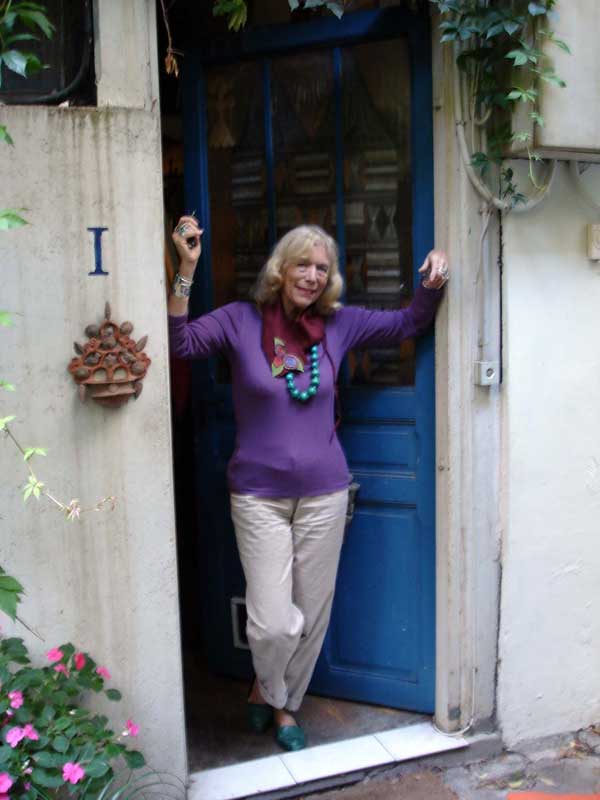 Happily focusing her relentless joie de vivre on a life steeped in Bohemian glamour, Judith Bledsoe is a light-hearted but passionate artist (and fond of cheerily self-effacing humor –"serial killer" is how she describes her penchant for moving briskly through periods of subject-matter obsessions); the Hollywood-born Judith Bledsoe embodies the romantic and free-spirited artist's lifestyle that legends are made of. After a whirlwind childhood as the daughter of a concert violinist with roots in old French New Orleans, Bledsoe ran off to Europe at age 16 to discover her artistic calling.
She eschewed the London fashion design in which she had shown considerable talent ("I was too much of a Bohemian to turn into a businessperson"), where she instead worked for BBC-TV, creating live drawings, telling stories to children and eventually illustrating children's books. She came to find artistic inspiration and fulfillment in the richness and vibrancy of European life, eventually settling in Paris. For several years, she was affiche artist for Printemps Couture in Paris, and it was there that she fell in love with printmaking. Bledsoe worked for several years with the Imprimerie Nationale de France, the official lithography print workshop of France, which later commissioned her to create its official commemorative lithograph, titled "The Spirit of the Print Shop." Most importantly, in France Bledsoe found a culture imbued with the spirit of joy and imagination that pervades her paintings, lithographs, drawings, and "constructions" to this day.
Today she makes her home in Montparnasse, a green oasis she describes as being "like a fairytale – It's marvelous to be able to live in this place, walk around barefoot…Sometimes when the moon is full you rush out naked and take a moonbath." She adds playfully: "I have a reputation of being sort of mad, you see." Judith Bledsoe's work has been exhibited all over the world, including, not surprisingly, such exotic locales as Mallorca, Capri, Uruguay, the Canary Islands, and in her home country of France. Her lithograph "Noah's Ark" was chosen for a UNICEF Christmas card design – yet it is that very childlike quality in her art that belies the sophistication of Bledsoe's form of expression. Like her personal artistic "gods" Bonnard, Vuillard, and Matisse, Bledsoe revels in the primitivist's license to pour forth uplifting, joyous, radiantly colored images, free from pretension or cynicism. Flowers, animals, simple folk, fantastic beasts, carnivale and the human parade of eccentric and beautiful life – all are vehicles for Bledsoe's unabashed love for living, for sensual delights, emotional abundance, and soulful spontaneity.
In her own words, "My involvement in art has come as naturally as breathing – I could not have done anything else. It is all a matter of seduction, as most things in life are. Inspiration grows out of doing the actual work itself, from working steadily and keeping your sensitivity alive to everything.""Art for me is magic," says Bledsoe, "although it's also magic when someone falls in love with a work of art, sees it and has to have it live with them in their home. That's what art is – a torrid love story. You have to create it with your heart full of flowers."